MARK S. EVANKO
Principal – Engineer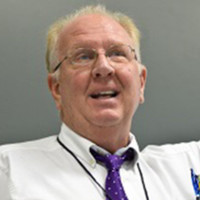 Years of Experience: 40
Areas of Specialization:
Business development, engineering, interface with clients
Education:
Lehigh University – B.S. Engineering
Fairleigh Dickinson University – M.B.A. Marketing,
University of Toledo – College of Law (attended)
Partnership Development:
AT&T Consulting, Deloitte, Agilysys, Accenture, IBM, Cisco, EMC, Dell, Mainline, Jacobs Engineering, Bechtel, OnX, Siemens, The Gartner Group
Professional Experience:
Mark S. Evanko, Principal, BRUNS-PAK
Mark is the principal and one of the original founders of BRUNS-PAK. BRUNS-PAK's 40 year/6,000+ project experiences in design/building high technology data center projects serve as the basis for the evolution of the ultra-reliable facility. Mr. Evanko continues to actively participate as a BRUNS-PAK project director integrating facilities with information systems in developing technically proficient solutions for the client.
Over the years, Mark has chaired BRUNS-PAK's business partner affiliations with major computer manufacturers and other major Fortune 500 service providers including: Dell, Accenture, IBM, OnX, The Gartner Group, Mainline, Bechtel Verizon Business, Data Span, Mark Levin & Partners, Deloitte (Collaborations), Vicom, SGI, Sine Nomine, SBC Consulting, and Cloudify. The business relationships have been founded on providing a technically proficient, ethical, and cost effective consulting service that avails the client to alternative "state of the art" solutions.
Mark's personal background includes a Bachelor of Science from Lehigh University in Engineering, a Masters in Business Administration from Fairleigh Dickinson University, and he attended The University of Toledo College of Law. He graduated from Amerada Hess' Corporate Management Engineering Program as well.
MARK EVANKO'S PAST SPEAKING ENGAGEMENTS:
AFCOM Spring and Fall Conferences
National Facilities Management & Technology Conference – Baltimore, MD
Critical Facilities Summit – Charlotte, NC
Datacenter Dynamics New York, NY; San Francisco, CA
Campus Technology Forum – Long Beach, CA
National Facilities Management & Technology Webcast
Honeywell Users Group – Scottsdale, AZ
AFCOM Chapter Meeting – San Antonio, TX; Boston, MA
Ethernet Forum – San Jose, CA
Cogentes Webinar – Edison, NJ
AFCOM Chapter Meeting – Western PA; Toronto, Canada
UCF CIO Coop WK GP – Innovation Session – Orlando, FL
Uptime Institute – Houston, TX
Future Facilities Data Center Dynamics Conference – San Francisco, CA
Canadian IBM Tour – Data Centres and Ultra Reliability: The Quest Continues
7×24 Exchange –Tempe, AZ; Atlantic City, NJ
Server Blade Summit – Santa Clara, CA; Garden Grove, CA
IBM Canada's Global Services Conference – Toronto, Ontario
COMMON Fall Conference – San Antonio, TX
IBM's PSS Complex Systems Solutions Forum –St. Louis, MO; Atlanta, GA; Dallas, TX; White Plains, NY
RISCON Conference – Denver, CO
IBM's Managing S/390 Enterprise & Technical Show – Reno, NV
CMA Telecom Conference – New York, NY
National Managed Healthcare Congress – Los Angeles, CA
IBM Data Centers of the 90's Technical Conference – Arlington, VA
POWERSYSTEMS WORLD – Baltimore, MD
Uninterruptible Uptime Users Group (7×24 Exchange) Conference – Seattle, WA